What Is M2TS
There exist doubts of what M2TS files are and what type of format it is among lots of individual users?
An .M2TS file is a Sony high definition video file type. M2TS files are raw AVCHD videos recorded using Sony's camcorders, such as the HDR-SR series models. Panasonic, Canon and other brands of AVCHD camcorders also record in M2TS format.
Currently, M2TS files can be played using the Picture Motion Browser, which is an application video player provided with Sony AVCHD camcorders. M2TS files can also be played with Mplayer, Windows Media Player, ALLPlayer, VLC and other media players if there is a codec for DVD playing installed. But the file type .M2TS is not always automatically associated with the player, so it may be necessary to open it from the player. That's to say, it's not convenient to play and enjoy your M2TS video.
There are versions available to convert M2TS files into MPEG-4.Current versions of Nero Vision and Picture Motion Browser are capable of converting M2TS files into MPEG-4 files, which can also be viewed using the aforementioned media players.
It is important to note that: The M2TS format from Sony is not necessarily the same as that of Panasonic or Canon camcorders. Programs like Sony Vegas Pro can open Sony M2TS files but not Panasonic M2TS files. (Sony Vegas Pro v.9 is capable of reading and editing M2TS files produced by Canon Vixia Camcorders.) The only piece of software known to handle both types is currently Pinnacle Studio 12 Ultimate.
The M2TS file format is one of the three mandatory supported codecs (MPEG-2, H.264/MPEG-4 AVC, and SMPTE VC-1) used on Blu-ray discs. M2TS files can also be played on Sony PlayStation 3s and Sony Bravia TVs supporting playback of AVCHD.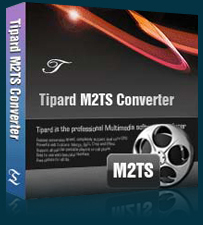 M2TS Converter

M2TS Tools

Support Devices

Partner Links